Char Dham Helicopter Services
The pilgrimage of the four most revered Hindu destinations of Yamunotri, Gangotri, Sh Kedarnath Ji and Sh Badrinath Ji is known as the Chardham Yatra. By chartering our helicopter, it can be covered in 2 days from Dehradun or Delhi. Our helicopter can take up to 4 passengers. A journey to these four destinations is considered to be of great spiritual significance, according to traditional Hindu belief.
Sh Badrinath Ji
Badrinath is considered the holiest of the four important shrines . The town is at an altitude of 3,133 mtr. above sea level, situated on the left bank of river Alaknanda and exactly between the two mountains Nara and Narayan. The shrine is dedicated to Vishnu, the preserver and falls in the religious itinerary of every devout Hindu.
Our helicopter charter runs from Dehradun and Delhi and covers the shrine in 1 to 2 days. Making your yatra comfortable and enjoyable, our helicopter runs exactly as per your convenience.
Sh Kedarnath Ji
The Kedarnath shrine, one of the 12 jyotirlingas of Lord Shiva, is a scenic spot situated, against the backdrop of the majestic Kedarnath range. Kedar is another name of Lord Shiva, the protector and the destroyer.
Besides our daily service to the shrine from Phata, we also offer charter service from Dehradun and Delhi. The shrine can be covered in 1 to 2 days depending on your plan and requirement.
Gangotri
Gangotri is situated at an altitude of 3,048mts above sea level in the Uttarkashi district of Uttarakhand state. Located on the banks of the holy Bhagirathi River, Gangotri is one of the Char Dham of Uttarakhand.Submerged Shivling. There is a natural rock Shivling in Gangotri submerged under water which can be easily seen when winters are on their way as the water level decreases during that time.

Our helicopter makes the journey most memorable covering the vallies and ranges which are difficult to explain in words. The charter service is available from Dehradun/ Delhi/ Phata and can be covered in 1 to 2 days.
Yamunotri
The sacred shrine of Yamunotri, source of the river Yamuna, is the westernmost shrine in the Garhwal Himalayas, perched atop a flank of Bandar Poonch Parvat. The chief attraction at Yamunotri is the temple devoted to goddess Yamuna and the holy thermal springs at Jankichatti (6 km. Away). The Yamunotri temple is on the left bank of Yamuna constructed by Maharaja Pratap Shah of Tehri Garhwal. The deity is made of black marble.

Helicopter service to the shrine can save your time and efforts. It can be covered in 1 to 2 days and you do not have to go through un friendly terrain. The helicopter takes you through beautiful valleys and snow covered peaks.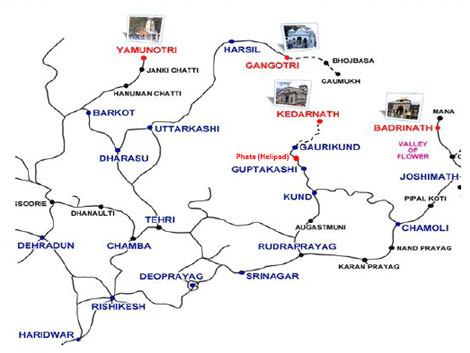 How to Book your Charter
Due to extreme demand, we have started advance booking. All you have to do is call:-
CONTACT US :-
+91 8860629485
+91 8860629486
Or email : booking@pinnacleair.org
Pinnacle Air Pvt Ltd
SBI Bank, New Delhi
Account No. - 32269096776
IFS Code - SBIN0030276
PAN Card No. AADCP4562E
Online Reservation Form